here is my top 10 of my fave pokemon typing. Ghost types.

10: Chandelure

chandelure is just an awesome looking pokemon with a super cool typing.
fire/ ghost is just an awesome combination and gave this pokemon a cool disgin.
with its also a pretty good pokemon because of its sky high special attack.
i got a shiny chandelure myself over wonder trade and its just a cool pokemon.
9: Golurk

with 3 imunities and not the worst defenses golurk can be a realy tanky pokemon if its used correctly.
most of its weaknesses are special attackers so i love to use a assault vest on this guy.
this pokemon can do massive damage with iron fist and STAB shadow punch so no reason to not love this awesome looking pokemon.
8: Sabeleye

sabeleye is cute and creepy at the same time, and in its mega form it is just a beast.
sableye had once that ultimate typing before the fairies came but it is still verry usable with the prankster abillity and its mega evolution is just a pain in the ass.
i still love this pokemon for its awesome disgin and capabillities.
7: Trevenant

it took Gamefreak 6 generations to make a pokemon based on a haunted tree. the disgin of this pokemon is just amazing and it can be used as a pretty good tanky pokemon with either the natrual cure or harvest abillity.
6: Aegislash

Fun fact: Aegislash originaly name was suposed to be OPsword (true story). this pokemon has everything it can wish for, a cool disgin, cool typing, ledgendary stats and one of the best abilities in the game. i dont often use over powerd pokemon like this but this guy is one exception as a ghost type trainer

5: Mismagius

Mismagius is not as fast or strong as Gengar but it is still a great sweeper. as a pure ghost type it has only 2 weaknesess and it has as more ghost types on this list 3 imunnities. and to be fair, this pokemon looks the most spooky of all ghost types.
4: Banette

Gen 3 is not my fave generation at all, but it has some of the coolest ghost types along with gen 4. it looks realy creepy and its pokedex entry is just terrifying.
Banettes mega form is realy usefull with the prankster abillity and if you have frisk on banette its like you have 2 abillities.
3: Cofagrigus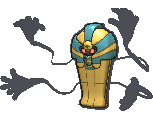 If I had to choose one pokemon that had to be in my pokemon team forever it would be Cofagrigus. i love using this pokemon so much. its my ultimate tank.
its defensive stats are great and it can shut down your oponents abillities even after it fainted. it also has great moves like will-o-wis-, hex and trick room. and if the oponent thinks he gets close to killing it, BAM sitrus berry.
2: Gengar

Nope no number one spot for gengar. i love this pokemon so much in every way but i like one just a bit more.
Gengar is one of the best special sweepers in the game and can be used in so manny ways. from trapping your oponent to sweeping through as manny pokemon as possible. its also THE original ghost from gen 1.
1: Drifblim

One of my fave pokemon of all time. I know a lot of people hate drifblim but i love it so much. not just its potential but i love the disgin the most! it is so creative. ghost and flying are my favourite types in the game. some people don like this pokemon because of minnimize, stockpile and baton pass because it would be ''unfair'', i dont think so. its not 100%
guaranteed to sucseed this proces. unfair or not, i love this spooky balloon no matter what!